what is STIR/SHAKEN?
central source of trusted information
STIR/SHAKEN is a framework that specifies a practical mechanism for service providers to authenticate calls and let consumers know that the information displayed on their caller ID is verified.
how is iconectiv working with STIR/SHAKEN?
iconectiv was selected as the STI-PA (Secure Telephone Identity Policy Administrator) to apply and enforce the rules that will operationalize the SHAKEN framework.
Image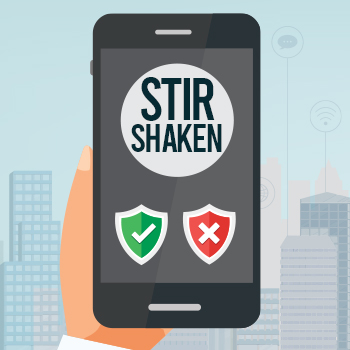 what is verification?
gain consumer confidence in voice calls again
Verification is a process that enables you to leverage the industry-backed centralized registry to streamline the phone number registration process. Registered Caller enables you to register and validate business phone numbers and/or customer phone numbers simultaneously across major voice service providers so that they can more easily identify and label legitimate calls. This enables legitimate callers to be more easily identified, which can help make businesses' phone calls known to the recipient and can improve call centers' NPS by getting calls answered more frequently.
iconectiv's role with verification
Registered Caller is an industry-led solution developed with input from major voice service providers, robocall mitigation companies and other leaders in the voice service industry that is facilitated by CTIA and iconectiv. With leading entity vetting and telephone number validation techniques, Registered Caller provides Voice Service Providers verified information they can trust.
learn how to increase your call answer rates
Chat with an iconectiv expert today to learn more about how you can get your calls answered through verifying your phone numbers with API options that can integrate into your existing solutions.
Learn More
Maximize call answer rates
Use Case
Illegal robocalls are undermining consumer confidence in voice calls. Learn how verifying calls can help.
Combat illegal spoofing
Brochure
Learn how authentication and verification can help stop illegal robocalls and caller ID spoofing.
Robocalling techniques
Handout
Check out the existing robocalling and spoofing mitigation techniques used today.
rich call data best practices
verify legitimate calls with TruReach Certify
Find out how TruReach Certify has become the market leading solution that manages the caller ID verification ecosystem and ensures that legitimate callers get their calls shown as authentic to the recipient.
restore trust in communications with verification
As a business or call center that requires a phone to reach customers, you need your calls to not only go through but get answered. Currently, with 31.3 billion spam calls received and $19.7 billion lost to spam calls in 2020, 94% of consumers are not answering calls from numbers they do not recognize. To remedy the problem, it is best to first understand why your phone calls can get blocked and how STIR/SHAKEN plays in.
Whether you are a business that calls customers directly or a call center, ultimately, you want the peace of mind of knowing that your customers are receiving the information. But what happens when STIR/SHAKEN – the framework that lets consumers know if the person on the other end of the line is who they say they are – is implemented?
Well, the good news is that for legitimate business callers, this can be extremely beneficial to their answer rates. For this to work, you will need to work with a call center or service provider that is following the necessary protocols within STIR/SHAKEN. If you chose not to work with a call center or service provider following the STIR/SHAKEN framework, it could mean that your business phone calls get blocked due to service providers not knowing who "owns" the number.
The even better news is that numerous industry leaders, including iconectiv, are working to restore trust in communications and help business calls get answered through verification. Registered Caller is a collaborative initiative facilitated by CTIA and iconectiv. With Registered Caller's streamlined process, businesses that rely on voice calls to reach their customers can register their customers' phone numbers simultaneously across major voice service providers – saving time and resources and helping deliver even more value to their customers. Once registered, voice service providers can more easily identify and label legitimate calls with a verified caller ID. Doing so helps make businesses' phone calls known to the recipient and can improve call centers' net promoter scores (NPS).
frequently asked questions
What is SHAKEN?

SHAKEN (Signature-based Handling of Asserted information using toKENs) is a specification framework designed to mitigate illegal robocalls by reducing the impact of illegal Caller ID spoofing. It combines a trusted Caller ID authentication process along with the introduction of an automated traceback capability. Together, they will be used to verify the accuracy of the calling number information in order to help identify and stop the illegal calls and spoofing.

What is the Attestation Gap? Why should I care?

The SHAKEN standard and framework attach a digital signature to a voice call that helps give consumers confidence that it is from a verified and legitimate business. Calls are given labels (called "attestations") – A, B and C. The "A" label indicates that a caller's identity is fully verified. Partial "B" or Gateway "C" attestations will not receive a "verified caller" label.

What is Registered Caller?

Registered Caller is a centralized telephone number registry that helps mitigate illegal and unwanted robocalls and increase call completion rates by providing Voice Service Providers with enterprise caller information they can trust.

How does Registered Caller help enterprises?

Registered Caller helps to improve customer call answer rates. Studies show consumers are highly unlikely to answer calls from unknown callers. Registered Caller offers improved robocall mitigation performance and helps enterprises more effectively reach their customers.

How does TruReach Intel effectively verify voice calls, text messages and chatbot conversations?

TruReach Intel helps disparate entities agree on vetting criteria and then view, track, monitor and manage the shared approval process. A dashboard view integrated with your existing solutions provides transparency.

What types of businesses can benefit from using TruReach Intel?

Legitimate businesses that are communicating via voice calls, text messages and/or chatbots can use this solution to improve their reach to end users by verifying their identity. Examples of the types of businesses that may benefit from this solution include service providers, call centers, messaging companies and enterprises.

Are there any webinars available to better understand SHAKEN/STIR?

Yes, ATIS has several webinars available including "The SHAKEN Governance Model: Setting Robocall Mitigation Protocols into Action in the Networks," and "SHAKEN 101: Mitigating Illegal Robocalling and Caller ID Scams" both of which can be viewed here.