go on the offense against fraud
TruNumber Protect enables service providers to block many types of fraud and suspicious activity, including one-ring scams, PBX hacking fraud, international revenue share fraud (IRSF), interconnection-related revenue leakage and fraudulent roaming calls to premium-rate services.
With the TRACED Act now enacted in the United States, service providers can benefit from a fast, proven way to block calls from high-risk and unallocated number ranges using TruNumber Protect. By providing intelligence about telephone numbers worldwide, TruNumber Protect reliably cuts down on one-ring scam calls and text messages as well as fraudulent roaming calls to premium rate services. With TruNumber Protect powering your fraud prevention initiatives, you can expect reliable, actionable data and a proactive approach to stopping fraudsters in their tracks.
We felt it important to add proactive protection to our existing FraudAlert system and after thorough evaluation, we determined that iconectiv's TruNumber Protect solution is the most robust and reliable proactive solution in the market...

Guillermo Hurtado, Product Manager, iBasis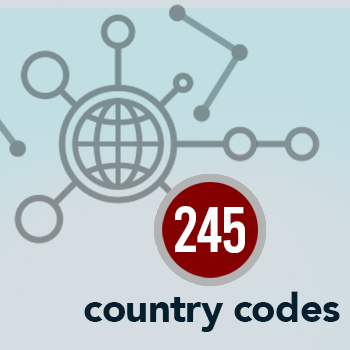 combating fraud with accurate data
TruNumber Protect provides a comprehensive database of high-risk and unallocated number ranges. It leverages our authoritative dial plan data, presented in a common format to cover 245 ISO Country Codes for countries and territories worldwide. Our datasets enable service providers to pinpoint — and flag — potential fraudulent calls and take immediate preventive action in real time.
The intuitive, cloud-based user interface lets you slice and dice the data to load into routing tables, switches or least cost routing mechanisms. This empowers you to decide what traffic to block and monitor.
strength in numbers: fight fraud with reliable data
TruNumber Protect uses industry-best data to help service providers fight fraud using iconectiv's authoritative, consolidated database. It combines information from national regulators, telecom consortiums, industry associations and numbering administrators from around the world.
The power of the TruNumber Protect data allows you to proactively stop fraud before it ever starts, which helps make your fraud prevention team even more efficient. Use it to quickly identify and block fraudulent calls to and from high-risk number ranges or to obtain early warnings to alert your fraud prevention teams about impending attacks. And because it is a forward-looking solution, you don't need to rely on past fraud events to stop future fraud attempts. Instead, it immediately blocks fraudulent calls including unallocated and premium rate numbers.
product resources
Handout
Fighting one-ring scams
With the TRACED Act enacted in the U.S., service providers can benefit from a proven way to block calls from high-risk and unallocated number ranges.
Download
Brochure
The steep cost of a fraud
Put an end to fraud. Learn how TruNumber Protect safeguards your customers, brand, and bottom line.
Download
Case Study
Stop revenue share fraud
See how TruNumber Protect helped the UK's largest mobile network virtually end revenue share fraud.
Download
fraud: a multi-billion dollar problem
Fraudulent abuse of communications networks and technologies results in more than $32 billion in losses every year. See how TruNumber Protect can help prevent International Revenue Share Fraud (IRSF) and other types of number fraud by proactively blocking fraudulent calls before they take place.
telecom fraud is constantly evolving
Fraudsters grow more devious and sophisticated every year. For service providers, that means billions lost annually to interconnection-related fraud such as IRSF. IRSF exploits International Premium Rate Numbers (IPRN) and unallocated numbers to send fraudulent calls and text messages to high-cost areas around the world. It is currently one of the most lucrative types of fraud in the world.
The most effective way to reduce IRSF is to identify and stop the crime before it takes place. TruNumber Protect helps prevent IRSF and other types of fraud from entering your network. It's designed to complement your current fraud strategies, easily integrating with your existing systems so you can make more efficient use of your fraud prevention resources.