BACK to News & Events
Event
MEF RCS Roundtable Spain
iconectiv, Director of Product Management, Cliff Holsenbeck, will join MEF on Tuesday, May 12th at 6:00am EDT for a roundtable discussion on Rich Communication Services (RCS) and building customer trust.
As the critical foundation of trust in communications is eroding, RCS, as a new technology has the opportunity to get it right — right from the start. By building in verification and authentication capabilities, RCS can drive consumer trust in rich business messaging content. Once consumers have trust in an accessible RCS, it will be become an increasingly valuable customer-engagement platform for businesses.
Join us for an in-depth conversation with industry visionaries who are building the next wave of B2C communications on a trusted foundation that will ultimately help protect businesses, promote customer-brand relationships and better engage consumers.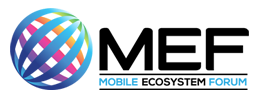 Established in 2000, The Mobile Ecosystem Forum is a global trade body that acts as an impartial and authoritative champion for addressing issues affecting the broadening mobile ecosystem.  We provide our members with a global and cross-sector platform for networking, collaboration and advancing industry solutions.