make sure your calls get through to your customers
be trusted and authenticated 
Consumers are receiving more illegal robocalls than ever before which makes reaching your customers in the United States more complicated. However, there's a way for your legitimate business calls coming from non-U.S. voice service providers to get through. That's because the FCC STIR/SHAKEN mandate provides a way for communication service providers to participate in the SHAKEN framework in the United States. Meanwhile, International SHAKEN effectively paves the way for legitimate business calls coming from non-U.S. communications service providers to be verified and get connected. International and national SHAKEN deploys are helping restore consumer confidence in telephone calls again, whether they originate and terminate within the same country, or originate in one country and terminate in another.
how does STIR/SHAKEN affect international calls to the U.S.?
If you're using U.S. telephone numbers that are not listed in the Robocall Mitigation Database, the FCC mandate prohibits U.S.-based communication service providers from accepting that traffic. For those using a network of intermediate communication service providers to transmit calls, identifying the originating network can be challenging, which means your telephone calls won't receive the highest level of call verification, which may result in your legitimate telephone calls from inadvertently being blocked.
Image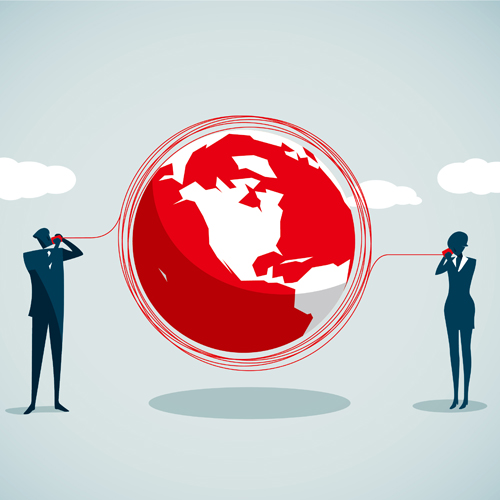 how can iconectiv help your calls get properly authenticated?
As a trusted partner of the communications industry and the Secure Telephone Identity Policy Administrator (STI-PA) for the world's first implementation of a national call authentication system that fights against spam calling, iconectiv offers a simple, seamless and secure solution that recognizes legitimate international calls and callers within the U.S. SHAKEN ecosystem.
With iconectiv TruReach Certify, national and international SHAKEN deployments can help legitimate business to continue to meaningfully engage with customers in the ways their customers want. Whether you need to deploy a nationwide framework or simply guarantee all calls terminating in jurisdictions that have implemented SHAKEN, such as the U.S., are verified upon arrival, TruReach Certify can ensure your caller ID verification solution meets industry standards, works between service providers and is accepted across borders.
learn how to give customers the confidence to answer your calls
Chat with an iconectiv expert today to learn more about how you can get your calls verified and answered.
Learn More
how it works
Learn how iconectiv verifies, confirms, manages and supports the issuance of digital certificates for use in the SHAKEN framework in the U.S.
The SHAKEN Governance Model
Setting Robocall Mitigation Protocols into Action in the Networks
This webinar provides insight into how it is being set into action in the network using the SHAKEN governance model. It covers how the governance model was formed and the key requirements behind it.
SHAKEN 101
Mitigating Illegal Robocalling and Caller ID Scams
This webinar provides updates on advances being made to set key robocalling mitigation protocols into action in the network. It explains how illegal robocalls and Caller ID spoofing work and how key capabilities of the STIR/SHAKEN protocols will work to combat this fraud.
paving the way for legitimate calls to get connected
Because Americans were receiving huge numbers of unwanted calls — more than 71.5M spam calls were reported in 2021 — the United States passed the TRACED (Telephone Robocall Abuse Criminal Enforcement and Deterrence) Act, which gave the FCC new tools to fight unwanted, and often illegal, robocalls. The FCC mandated STIR/SHAKEN be implemented to protect consumers from ever receiving them. International SHAKEN provides a way for offshore contact centers with important information for customers and branch offices located outside of the U.S. to help ensure their telephone calls receive the correct level of attestation, so they can be verified. This allows legitimate companies to continue doing business with the U.S. simply by following the process laid out in the framework.
The iconectiv Trusted Communications platform provides a standards-based approach to help you ensure that non-spam calls from abroad are successfully terminated in the U.S. For example, our Trusted Communications and TruReach Certify platforms assist with ongoing spoofing and robocall mitigation efforts across the industry. In addition, we can help you learn and adopt strategies to ensure that each of your legitimate overseas calls are authenticated end-to-end seamlessly. Whether you are a service provider, call center, messaging company or multi-national enterprise, you can count on us to help you get verified so you keep business flowing across borders and around the globe.
frequently asked questions
What is STIR/SHAKEN?

STIR/SHAKEN is a framework that specifies a practical mechanism for service providers to authenticate calls and let consumers know that the information displayed on their caller ID is verified.

What is the SHAKEN Framework?

The SHAKEN framework is a set of specifications that, when implemented, helps service providers verify caller IDs between networks to enhance their efforts to mitigate robocalling and spoofing. It serves as a trust anchor to ensure the exchange of digital certificates is limited to authorized service providers. With this service, terminating service providers are able to recognize when caller IDs are authentic and have not been tampered with by outside parties.

What is Anti-Spoofing and Robocalling Mitigation?

Anti-Spoofing and Robocalling Mitigation refer to the initiatives being put in place to protect you from unwelcome calls. Learn about FCC mitigation efforts.

What is TruReach Certify?

TruReach Certify is platform at the foundation of the world's first deployment of a STIR/SHAKEN-based robocall mitigation solution. TruReach Certify ensures caller ID information is authenticated and verified.

Learn how TruReach Certify authenticates legitimate calls